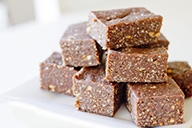 Over the past decade, nutrition and obesity expert Yoni Freedhoff, MD, has dedicated his career to helping chronic dieters get weight off and keep it off. His success rate with clients shedding pounds and then maintaining the weight loss hovers around 81%%. One of his philosophies is that permanent weight loss must include chocolate!
Since it's hard to argue with that, try this recipe from his new book The Diet Fix (Harmony 2014). It's a great pre or post-workout grab-and-go booster.
1 large egg
1⁄4 C sugar
1⁄2 C Splenda
1⁄3 C natural peanut butter*
2⁄3 C unsweetened applesauce (about 2 single-serve portions)
1⁄4 C soy flour
1⁄2 C whey isolate protein powder
1⁄3 C unsweetened cocoa powder
1⁄2 C old-fashioned rolled oats
1⁄2 C quinoa
1⁄3 C unsweetened shredded coconut
Recipe Key: C = cup
Preheat the oven to 375° Fahrenheit. Line a 9 × 13-inch baking pan with parchment paper.
Toast raw quinoa in a dry pan over medium heat for about 5 minutes, until popping and brown; set aside.
Combine the egg, sugar, Splenda, peanut butter and applesauce in a large bowl. In another bowl, combine the flour, protein powder and unsweetened cocoa. Add dry ingredients to the wet ingredients and stir until well combined. Add the oats, quinoa and coconut. Mix until well combined. Spread mixture evenly in the pan.
Bake for 15 minutes, until set.
Allow to cool completely in the pan before inverting onto a cutting board and peeling off the parchment paper. Cut into 16 bars. Wrap individual bars in plastic wrap and freeze in an airtight container or a heavy-duty resealable plastic bag.
Per bar: 140 calories; 7 g protein.
*For school-safe bars, substitute soy-nut butter for peanut butter or remove this item altogether and reduce the baking time by 3 minutes.
Source: Reprinted with permission from The Diet Fix by Yoni Freedhoff, MD.