Welcome to the all-new GetFitSocal.org. Our goal is provide you with the latest news and information on healthy eating and active living at Kaiser Permanente. From current events to partner discounts, we have a ton of new info. We hope you enjoy the new site.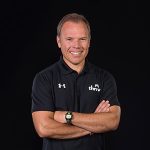 Andy Gallardo
Director of Fitness
Andy Gallardo is the Director of Fitness for Kaiser Permanente Southern California. His responsibilities include designing, directing and leading worksite initiatives to encourage employees and physicians to lead a healthier lifestyle. He also manages Kaiser Permanente's sponsorship of the Special Olympics Endurance Weekend, the La Jolla Thrive 5K and the Get Fit Relay Challenge.
Gallardo, 45, holds a BA in Political Science from Arizona State University and an MA in Public Administration from the University of Southern California. He is a certified personal trainer, sports nutritionist and weight loss specialist with the National Academy of Sports Medicine and is a Certified Functional Strength Coach. In addition to coaching youth track, football and cross country in the Santa Clarita Valley, his specialties include group fitness instruction, injury prevention, weight loss and sports training for youth and adults.
He lives in Valencia, CA with his wife Laura and their sons, Blake 12 and Brady 10.
Certifications/Training
NASM – Fitness Nutrition Specialist (FNS)
NASM – Weight Loss Specialist (WLS)
TRX – TRX Suspension Training Course
NASM – Certified Personal Trainer (CPT)
CFSC – Certified Functional Strength Coach
P90X – Certified Instructor
---